Swordfish is an excellent tasting fish. If you have never had it I suggest buying it. It has a meaty texture, while being a fish, and there is no fish taste. It has a mild flavor. Its very moist, and flavorful with a nice sweet taste. One other nice thing about swordfish, is how delicious it can be with even the simplest recipes. One of the best ways to prepare swordfish is to simply grill it.
There are many health benefits of eating swordfish. Swordfish is low in fat, low in calories, and has multiple vitamins and minerals. It's extremely rich with omega 3- fatty acids, which are very good for your heart.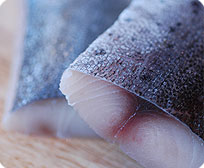 5 lbs. Swordfish Loins – $92.99
from: The Crab Place
Swordfish Skewers in a key lime sauce
Ingredients
2-4 swordfish steaks approximately 2 lbs cut into cubes
20 skewers
Oil
Salt and pepper
Cilantro leaves
1/5 can coconut milk
¼ cup key lime juice
1 chile pepper chopped
1 table spoon of minced lime zest
3 tablespoons cream of coconut
Cooking it all
1. In a blender add coconut milk, cream of coconut, key lime juice, chile pepper, and lime zest
2. Blend until smooth
3. Now add ½ cup of oil and blend more
4. Add salt and pepper to season and add more flavor
5. Put the sword fish on skewers
6. Marinade the swordfish in the sauce that was just created
7. One its fully marinade place the swordfish on the grill and cook for about 4 minutes on both sides
8. Take off the grill and enjoy your meal
Notes
1. On skewers you can add peppers and onions for more vegetables at your meal.
Please sign up for our Newsletter

Sign up for our newsletter to recieve occasional updates about our site! We'll send you different recipes and discounts we recieve!