Crawfish look exactly like a combination between shrimp and lobster. The crawfish is red and has a hard shell like lobsters. Crawfish comes from Louisiana, and live in freshwater ponds and streams. Crawfish is easily digested, it has a high source of protein, and it is extremely low in fat.
When you eat a crawfish you eat the tail of it. It tastes really sweet and is extremely rich with flavor. There are multiple ways to cook crawfish , and crawfish can be added to multiple fish dishes. When you cook Paella, or fish sauce crawfish can be added. You can steam crawfish, bake them, grill them, and added them to other fish dishes. A great way to eat crawfish is to take the meat out, chop it up and make a Cajun salad with the meat by adding different seasonings.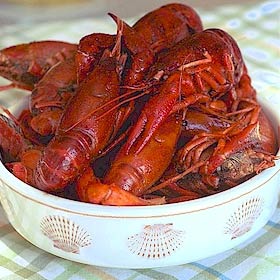 3 lbs Louisiana Crawfish 10-15 Crawfish Per lb – $24.79
Retail Price: $34.79
You Save: $10.00
Crawfish Recipe
Crawfish Poppers
Ingredients
1 lb of crawfish tail meat chopped
10 ounces of cheddar cheese soft
3 teaspoons Worchester sauce
Salt and pepper
1 lbs jalapeno 's
1/3 garlic powder
3 tablespoons of red onion chopped

Cooking it all
1. Beat the cheddar cheese or cream cheese until soft
2. Add the chopped crawfish and chopped onion
3. Add the Worchester sauce, garlic
4. Cut the jalapeno's in half
5. Scoop the dip into the peppers
6. Sprinkle with Cajun/ creole seasoning.
Please sign up for our Newsletter

Sign up for our newsletter to recieve occasional updates about our site! We'll send you different recipes and discounts we recieve!