This is an extremely exotic meat that primarily comes from Australia. Kangaroo is a marsupial, and most people have never eaten a marsupial before. Kangaroos are grazers just like cows and they love to eat grass. It tends to have a gamey taste which people tend to enjoy. There is very little fat content in kangaroo, while having multiple vitamins and other nutrients. The meat is extremely high in protein, zinc, and iron.
The meat of the kangaroo which you are eating comes from their legs. The people that produce the kangaroo are authorized by the government, and they have special instructions on how to harvest them. People like to compare kangaroo meat to ostrich because it is red very lean meat. There are no hormones in kangaroo and their 100 percent natural. The best way to eat kangaroo is medium rare. You can grill, pan sear, or bake the meat. All ways create a very tasteful dish.
Kangaroo Recipe
Kangaroo in a peppercorn sauce
Ingredients
12 medallions of kangaroo 2 lbs of meat
1/5 cup green peppercorns
¼ cup Worchester sauce
1 clove of garlic minced
½ -1 cup red wine
2 table spoons butter
¼ cup demi glaze

Cooking it all
1. In a frying pan add butter and melt
2. Put the kangaroo in and quickly cook until medium rare
3. Add the garlic and brown
4. In a pot add the red wine, green peppercorns, Worchester sauce, glaze and bring to boil
5. Add salt and pepper for taste
6. Add the kangaroo to the sauce so it soaks the flavor up
7. Enjoy your dish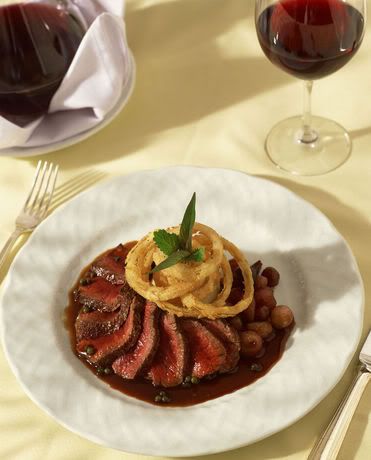 Please sign up for our Newsletter

Sign up for our newsletter to recieve occasional updates about our site! We'll send you different recipes and discounts we recieve!