There are many reasons to eat buffalo meat. Generally, buffalo is grass fed and raised
without hormones or anti-biotics. Buffalo also has plenty of the healthy fats CLA and
Omega 3.
Buffalo meat is extremely tasty and is a great choice to replace ground beef. It can be
used in burgers, meatballs, chili, tacos, nachos, lasagna, etc.
FACT:
Buffalo has less fat and cholesterol than 90% lean beef, 84% lean pork, chicken and
turkey among ground meats!
Buffalo meat is becoming very popular in the United States. This is because it is a very lean red meat, which tastes awesome. Buffalo meat can be cooked in so many different ways, and it comes in many different styles. You can buy ground up buffalo meat, buffalo steaks, buffalo roasts, etc. There are so many ways buffalo meat can be cooked. You can cook it in a stir fry, as hamburgers, steak, roasted in the oven, and even fried. So why are people switching to buffalo meat?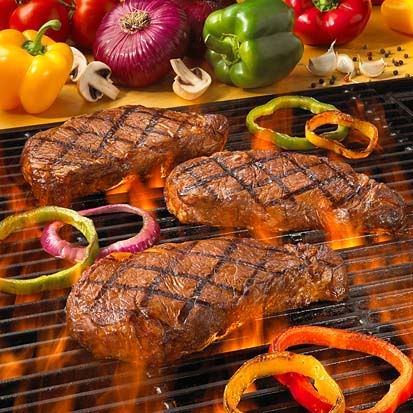 Buffalo meat is extremely high in protein. It is sweet, with tons of flavor. It doesn't have a gamey taste. Buffalo has a great source of vitamins and minerals, while being low in sodium, calories and cholesterol.
When cooking bison it will cook faster than regular beef because it has less fat. Also I would cook it rare to medium because that's the range in which this meat tastes the best.
Buffalo is probably my favorite exotic meat. Its also the closest in taste to the beef your used to eating. Its best to eat buffalo medium rare. Check out Dakota Buffalo Company for by far the best buffalo meat on the net. They'll ship you whatever cut of buffalo you could ever want. They also have tons more information on the meat I do not have here.
You can also check out our store, The Best Food Store Online
Buffalo Meat Alfredo
This is an incredibly delicious recipe for buffalo meat. Its one of my favorites, and I cook it for my family all the time.
Ingredients
1 lbs of ground up buffalo meat
1 Red onion
1-3 cloves of Garlic
Grill master Smoked maple dry rub seasoning
Heavy cream
3-5 tablespoons of Butter
Parmesan cheese
Chopped fresh parsley
1 red pepper
1 yellow pepper
2-3 bags Shirataki Noodles of your choice I suggest fettuccine, or just fettuccine pasta
Instructions
1. Add the grill master smoked maple rub onto the ground up buffalo meat
2. Dice up ¼ of a red onion
3. In a large frying pan melt butter (healthier use oil or PAM)
4. Throw in the buffalo meat and onion into the melted butter, add more of the maple seasoning while the meat is cooking
5. Slice up the peppers into strips and throw into the frying pan
6. While the buffalo is cooking start making the alfredo sauce
7. Once cooked set this aside.
8. Preparing the alfredo sauce
9. In a pot melt the butter
10. Once melted add 1-2 cup of heavy cream, and let simmer for 5-10 minutes
11. Mince the garlic up and throw into the simmering cream
12. Throw in some parmesan cheese, and fresh parsley and let simmer for another 5-10 minutes
13. Now take the cooked buffalo and throw it in the sauce
14. Make your Shirataki Noodles(rinse for 2 minutes and boil for 2 minutes) and add to the sauce
15. Spice it up throw some siracha hot sauce over your noodles mix well
Please sign up for our Newsletter

Sign up for our newsletter to recieve occasional updates about our site! We'll send you different recipes and discounts we recieve!