This is the crab that they catch on the show the deadliest catch on TV. Alaskan king crab is extremely difficult to catch, but it is one of the best shell fishes to eat. This crab is extremely sweet, moist and full of flavor. King crab is a big creature but most of the flavorful meat is found in the legs. The meat is white. While cooking it the shell will change to bright red which means their down. You can cook and eat Alaskan king crab in multiple ways, but a very common way is to steam the crab legs.
There are three different types of Alaskan king crabs the golden crab, the blue crab, and the red king crab. They are all found in different locations in the bering sea. All three are very similar in size, and taste. They are all very sweet and succulent.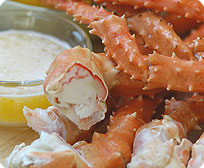 1 lb. pack Large King Crab Legs – $24.99
Retail Price: $34.99
You Save: $10.00
from: The Crab Place 5 lbs. pack Large King Crab Legs – $119.99
Retail Price: $129.99
You Save: $10.00
from: The Crab Place
King Crab Newburg Recipe
Courtesy Of The Crab Place
Ingredients:
1/3 cup butter

3 tablespoons flour

1/2 teaspoon salt

1/2 teaspoon paprika

dash cayenne pepper

1 1/2 cups coffee cream

3 egg yolks

1 pound King Crab meat
2 tablespoons sherry
toast points
Preparation Instructions:
Melt butter; blend in flour and seasonings. Add cream gradually and cook until thick and smooth, stirring constantly. Stir a little of the hot sauce into egg yolk; add to remaining sauce, stirring constantly. Add King Crab meat; heat. Remove from heat and slowly stir in sherry. Serve immediately on toast points. Serves 6.
» Crab is always King. Serve this Newburg for a refreshing luncheon meal.
Enjoy this King Crab Newburg Recipe with your friends and family. Order King Crabs Online to get started!
Please sign up for our Newsletter

Sign up for our newsletter to recieve occasional updates about our site! We'll send you different recipes and discounts we recieve!